Workplace Makers Podcast Tech Guide
This is how it should work - very simply
Joining our Riverside Studio
You'll receive the link to join the Riverside Studio literally on the day, and just a few minutes before your chat.
When you join, you will be met with the following screen. Please ensure that you have the correct audio output and microphone plugged in.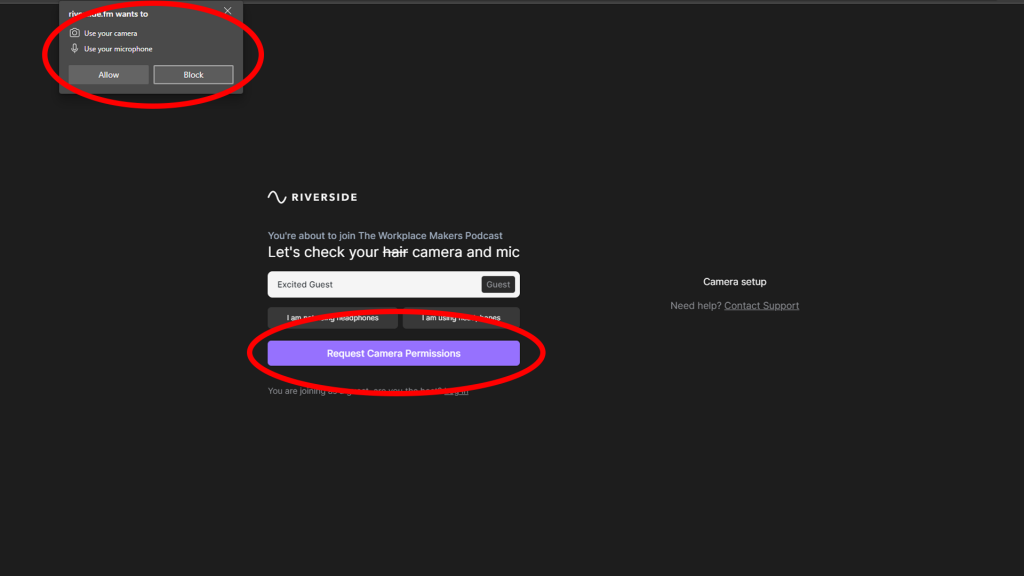 Riverside will ask to grant permission to access your mic and camera. 
Please note that we will *not* be using camera for the Podcast and this can be turned off after permission is granted.
Ensure that your camera is off and that the microphone and speaker output correspond to the correct device.
When you're happy, click "Join Studio" where you will be kept in a lobby to join.
If you require more help that is not covered in the below section, please visit https://support.riverside.fm/hc/en-us
I can't hear anything after I plug my mic in - Sometimes headsets have two plugs; one for audio and one for the mic. Please ensure they are plugged into the correct port (they should have little pictures on them, but for reference the green plug is normally audio). If you have only one plug, make sure this is plugged into the audio port and not the mic port.
My mic is too quiet - If you have the correct input selected but still cannot hear yourself, or if your video call partners report you being difficult to hear, you may want to check your input audio settings to ensure that your mic volume is turned up.
I can't hear very well even though I've turned the main volume up - Please ensure you have the correct input audio device selected in your computer's sound settings as well as for the call. You may need to change this from your speakers to the headphones you would like to use. Furthermore, ensure that you have turned the volume up for the application or browser - this can be found in the volume mixer settings.
When I click the link, I get a blank screen - what do I do? Please ensure that you are using Google Chrome or Microsoft Edge when joining. If your default browser is neither of these, copy and paste the link into the correct browser.
I don't have a Riverside account, do I need one? No Riverside account is needed to join the podcast. Riverside may ask for a Google account, but this is not essential as a guest. If you want Riverside to refrain from logging you in, join with a private browsing tab (InPrivate or Incognito).