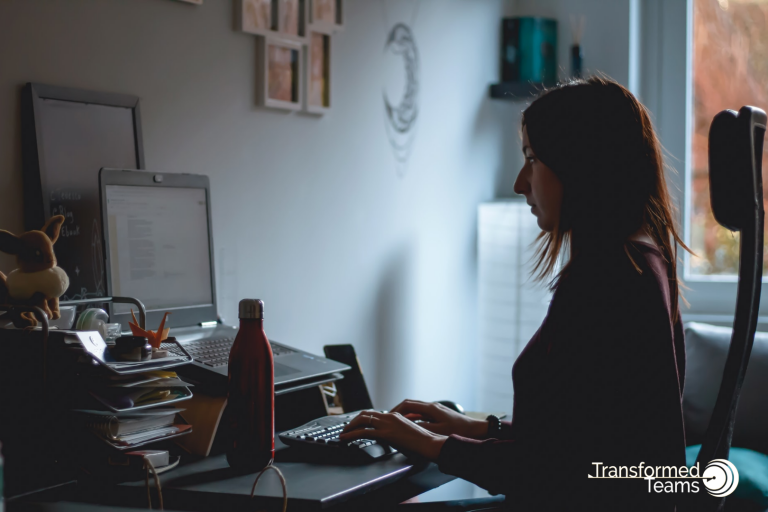 Transformed Teams' Workplace Strategist Nina Fountain has written a blog post about surviving working remotely during this time of unprecedented stress and upheaval. 
Over the past three weeks the COVID-19 pandemic is changing the way employers work, whether they were prepared or not. Remote working can have significant benefits when managed effectively, including the potential to increase productivity and attract highly skilled team members. However, our current emergency situation is remote working under different circumstances.
How do we ensure we survive this at a time of unprecedented stress and upheaval? Workplace Strategist Nina Fountain from Transformed Teams acknowledges that the challenge of leadership at this time is twofold – both leading our teams through this time of disruption and simultaneously working remotely ourselves. Nina has provided three key areas to focus on for survival at this time.
Ensure your team gets together regularly. Daily scrums or regular conversations are exactly what they need right now. It can be beneficial to touch base with someone in your team who is good at sensing the overall mood, and/or is good at connecting people.
You can really benefit from this person's wisdom at this time. Think beyond a phone call and facilitate daily calls via video conferencing platforms.
Set your team up for success. Employees need to have a functional workplace setup which suits their proportions. It should be a dedicated space, whether that's a table, ironing board, cardboard desk or a stand alone office. If working from home is new for your team, health and safety guidelines online can ensure your staff are safe and comfortable.
Have you asked your staff what their home office setup looks like?
Stock markets will often bounce back as soon as there is certainty. Dr Brené Brown has said "Clear is kind. Unclear is unkind."
People can cope better in a crisis if you're clear. If you have a goal for the next few weeks, make that clear.
Make it clear whether you are giving your team extra time to look after their wellbeing, or they may assume otherwise. If you have outcomes you would like your staff to achieve, be crystal clear by letting them know what is in and out of scope, so that they can know where to focus their efforts. If there are things you can't be clear about (and there will be), be up front about what those are – so your team members know that it's not that you're withholding information, you simply don't have that clarity at this point.
First posted by First5000 on 31st March 2020.
Schedule an Information Call today to find out more about our services.