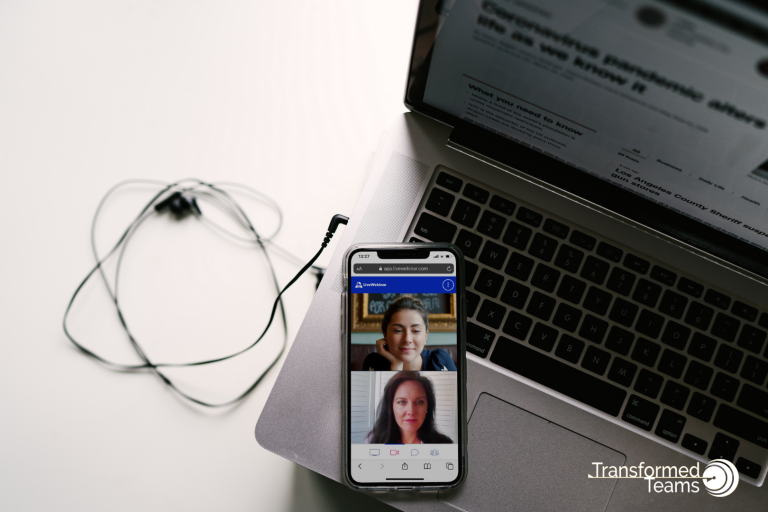 With Working From Home (WFH) becoming the 'new normal', many businesses, leadership teams and employees are having to transition into ways of working that are completely unfamiliar. This can be a challenging and intimidating time – especially for those of us who aren't tech savvy.
Transformed Teams' main objective is helping businesses implement remote work. We thought it would be helpful for us to share our experience with the online communication tools we use and recommend to our clients. Read on for a breakdown and honest ranking of these tools and how they can help you.
Video With Screen Sharing
These apps are perfect for team collaboration. They allow you to video call other team members with the option of sharing your computer screen in real time.
Privacy: End-to-end encryption.
Participants: The 'Pro' and 'Enterprise' accounts allow up to 4 video call attendees. 
Integration: Custom integration with your business' IT infrastructure. 
Tech: Cloud based software that can be used on smartphones, desktops and laptops. 
Price: 'Pro' accounts cost $4EU/ per month while the 'Enterprise' plan will set you back $8EU per month. Billed biennially. 
Notes: A safe way to conduct meetings and collaboration sessions for small teams. Good value for money if you use the many extra features like file sharing and messaging. 
Privacy: If you commit to a 'Pro' or 'Business' account your video stream is encrypted in transit. This means it is unencrypted and re-encrypted as it passes through their video servers. This Norwegian company receives top marks for privacy. Whereby is one of two tools we are using to replace Zoom – Whereby and WhatsApp. 
Participants: 'Free' accounts allow 4 attendees, while the 'Pro' account admits 12 attendees. 
Integration: The 'Pro' account syncs up with your Trello, Youtube and Google Drive accounts. 
Tech: Easy set up on desktop computers or tablets. 
Price: Tiered pricing based on type of account. Choose from free, $9.99/per month or $59.99/per month.
Notes: A great option for small businesses; affordable and easy to use.
Privacy: Data is encrypted but this is not end-to-end encryption. Data may not be encrypted while in transit. 
Participants: The 'Free' account allows up to 100 users in any one meeting. 
Tech: Works with desktop computers, laptops, smartphones and tablets. Suitable for Windows, Mac, Android and iOS operating systems. 
Price: Plenty of pricing plans to choose from ranging from free all the way up to $27.99/per month.
Notes: Ideal for small teams and personal use due to the affordability and usability. However, Zoom loses points due to the standard of encryption.
Privacy: Offers some encryption.
Participants: Group calls can include up to 50 users. 
Tech: Can be used on desktop computers, laptops, tablets and smartphones. Supported by a large range of operating systems. 
Price: Online-to-online communication is completely free. However, if you use Skype to call a mobile phone or landline it will cost you. 
Notes: Although Skype offers video calling, messaging and plenty of features, we wouldn't recommend it due to a history of privacy and connection issues.
Video Without Screen Sharing
Weekly team meetings, 'check ins', 'deep dives' and private one-to-one meetings can all be facilitated through these video call apps. 
Privacy: End-to-end encryption. 
Participants: Allows up to 12 people to appear on a video call.
Tech: This app works on most devices including smartphones, iPads, desktops and laptops. It is supported by both Windows and Mac operating systems. 
Price: Free.
Notes: Although this software can be used on a computer, it does require you to list your phone number as part of your account set up. We have tested this software recently and found the connection to be of low quality with audio and visual lag between callers.
Privacy: End-to-end encryption. 
Participants: This app allows group calls with up to 32 people. 
Tech: Works on mobile phones and tablets but you must be an iOS user.  
Price: Free.
Notes: We believe this app is perfect for short calls when you want to quickly 'touch base' with a colleague. However, it can only be accessed by iOS users. This means that team members with Android smartphones will be left out. 
This category refers to software that makes large scale meetings or talks possible online. Ideal for leaders who need to communicate to many teams or departments at once.
Privacy: Has end-to-end encryption.
Participants: 'Pro' account allows a max. of 100 attendees 
Integration: Offers many integration options using an API, including Moodle, Mailchimp and even some CRMs.
Tech: No downloads, installations or plug-ins. Works on smartphones, tablets, desktops and even some Smart TVs.
Price: Monthly and custom plans are offered. The standard 'Pro' Account costs $11.99/per month.
Notes: Easy to set up, fantastic integration options, high level of privacy. We currently use this software. 
Privacy: Encryption offered, similar to Zoom encryption.
Participants: Max. 100 attendees.
Integration: Can be connected to your HubSpot and Mailchimp accounts. 
Tech: Desktop plug-in for your computer with Android and iOS apps for smartphone usage.
Price: $43.50 /per month, this is billed annually. No options to customise your plan.
Notes: Doesn't offer value for money, tech and integration limitations make us hesitant to try this plug-in software. 

Text messaging has become much more acceptable in workplaces and allows you to communicate 'bite-sized' chunks of information and images with other team members quickly.
Privacy: Provides end-to-end encryption.
Participants: Offers private one-to-one messaging as well as 'group chats'. The max. limit in group chats has recently been increased to 256 contacts.  
Tech: Can be used on both Android and iOS smartphones as well as on desktop computers. Currently there's no WhatsApp for tablets. 
Price: Free.
Notes: We love the privacy, the affordability and the ease of use. This isn't a complex app but it delivers exactly what it sets out to.
Privacy: This app encrypts messages in transit and at rest. However, it does not offer end-to-end encryption. 
Participants: Depending on your account tier, the number of users can vary. Many users claim that up to 10,000 people can use the 'Free' plan. 
Integration: The 'Free' plan promises connectivity with up to 10 apps. Some examples include Google Drive, HubSpot, Trello, Asana, Statsbot and Giphy.
Tech: Slack can be used from a desktop computer within a browser or the app. It connects to Android and iOS phones and can even sync up with Apple Watch. 
Price: Pricing tiers range from 'Free' to 'Standard' at $6.67 USD/per month and 'Plus' at $12.50 USD/per month. They also offer custom pricing plans for large corporations.
Notes: A great messaging system that offers private messaging, direct group chats, chat channels plus plenty of integration options.