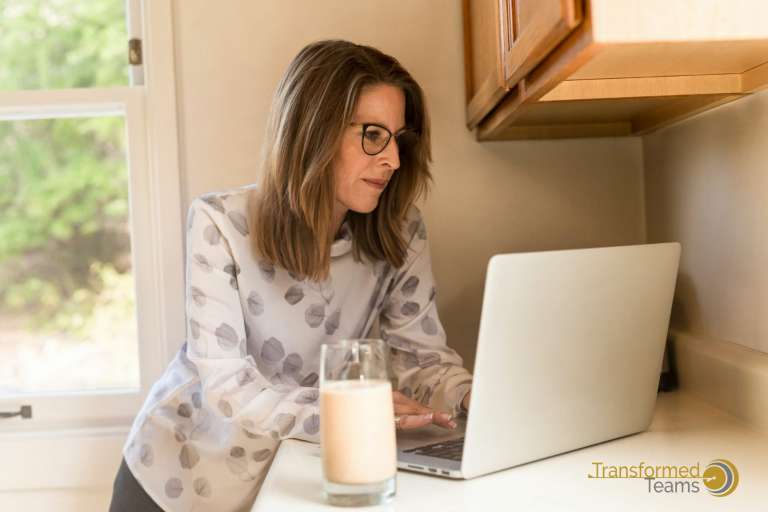 Technology isn't the only ingredient to a successful work from home team. Yes, it is hugely significant to the way you will communicate, share and collaborate with one another but there is obviously a human element in this equation.
We've been through the different technological options, which are your tools for remote work but now it's time for us to cover the foundation to a high performing remote team so your organisation can reach its optimal workplace potential.
Chances are if you're working in NZ or Australia, you've already made the transition from your traditional workplace to a virtual one. And, many of you did this for the first time in your working life. In this article we will equip you with two of the most important areas of teamwork, taking their work from home performance from average to fantastic.
Here at Transformed Teams, our workplace strategy teaches the importance of seven core elements for building a high performing remote team. This proven framework has been adopted by our clients to great success.
The benefits of implementing these elements include:
A team that is focused on results
A culture of strong communication
Little to no need for fixed office space
Let's focus on the first two here and talk about the ways in which you can begin to implement them in your own virtual 'workplace'.
Have you noticed more opportunities for distraction, miscommunication and time mismanagement while working from home? Without the confines of a traditional workplace, team members are asked to meet the very real demand of extra self-regulation and self-discipline. Remote working also asks that team members be more patient with one another, especially as the initial transition from the traditional workplace to the virtual one takes place.
To maintain your team's morale and performance throughout this time they will need to be reminded of their purpose. When your team understands why their work and goals are important, they will naturally be more willing to put in 'the extra effort'.
Before, after and during this transition period be sure to communicate the narrative of why your business makes a difference and highlight the problems you help to solve for your stakeholders. If your team members have shared their own perception of individual purpose make sure you link it back to the larger mission of the business.
Another big challenge of introducing remote work is maintaining accountability across your team. Not being there in the same environment as your team can really throw off the social dynamic, negatively impacting accountability and autonomy. 
It is easier for lower performing team members to shirk responsibility when colleagues and managers aren't able to see them actively working. This can lead to issues of resentment among lower and higher performers and may even cultivate a flippant attitude in regards to deadlines or the fair delegation of tasks among the team. 
In this context, accountability and building trust are perhaps even more important in a remote work environment and therefore, their importance needs to be regularly highlighted to team members. If it's not already, you may want to think about whether Accountability deserves to be one of your company values. We also encourage our clients to have a look at workflow and task sharing among the team so leaders can be fully across the team's ways of working and who is responsible for what. 
If you're interested in gaining more insight from Transformed Teams, schedule an Information Call today to find out more about our services.